Laser Refractive Surgery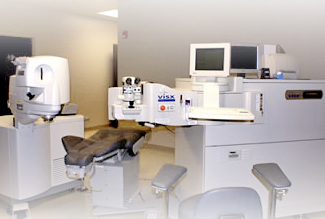 Parschauer Eye Center has been performing state-of-the-art excimer laser refractive surgery in the Sandusky, Ohio; Northwest Ohio; and the Northern Ohio area since 1995. We have gathered a staff of highly experienced professionals who provide the highest quality evaluations and care to the people of these communities.
The excimer (short for EXcited dIMER) laser is the current cutting-edge technology used to change the shape of the cornea (the front window of the eye) to reduce dependence on glasses and contact lenses. Sandusky Lasik, Parschauer Eye Center, currently employs the VISX S4 excimer laser system which is widely considered the platform of choice by refractive surgeons around the country.
Excimer laser vision correction can be accomplished using either:
Together with your surgeon, you will have the opportunity to help determine the type of surgical approach that best suits your occupation, your hobbies, and your personalized needs. With our lasik options, and by paying strict attention to detail, we at Sandusky Lasik, Parschauer Eye Center, are able to create a customized approach to your vision needs.